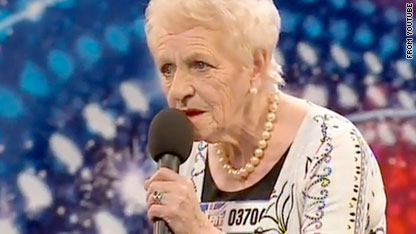 She needed help walking onto the stage, but 81-year-old Janey Cutler didn't need any help in bringing the audience on "Britain's Got Talent" to their feet.
After singing a strong rendition of "No Regrets," the mother of seven, grandmother of 12 and great-grandmother of four is being called the next Susan Boyle. A video of her performance on YouTube had more than 800,000 hits by Tuesday morning at 10 a.m.
Cutler was discovered in Glasgow, Scotland - the same city where Boyle was found by "Britain's Got Talent" last year. And while her hand shook a bit during the song, her voice soared. See the video of her performance here.