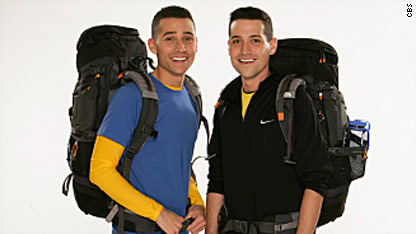 Dan and Jordan Pious, the brothers who won "The Amazing Race" on Sunday night's episode, could go down as two of the most controversial winners in the show's history. The pair surged from third place to first, after moving into first class on the plane to San Francisco, giving them a head start that the other teams were never able to overcome.
Commentors on the Marquee Blog yesterday didn't hold anything back: "How is it that they could go sit in first class? They tell the contestants at the beginning of the race that they can't buy tickets for first class the very reason that they would be deplaned first," wrote commenter ish. "Dan and Jordan cheated - plain and simple. They should have been given a half hour penalty at the finish line."
Other commenters agreed. "I've never known anyone to be moved to first class without having to pay for that upgrade (which is the same as buying a 1st class ticket to begin with) – so in my opinion Dan & Jordan cheated and should have been given a penalty," wrote Wendy.
Another commenter, Susan, who says she has been a flight attendant for 20 years, piped in and said, "We will often move passengers to first class towards the end of the flight if seats are available and there are time issues, specifically for very short connecting flights. It's purely a discretionary move, and a gesture meant to help the traveling public."
However, when E! Online spoke to a representative for CBS, they reported, "As long as Amazing Race teams purchase a coach ticket[...] they are absolutely allowed to upgrade to first or business class."
So, case closed? Or do you think that the rules are too lenient? Share your thoughts below.