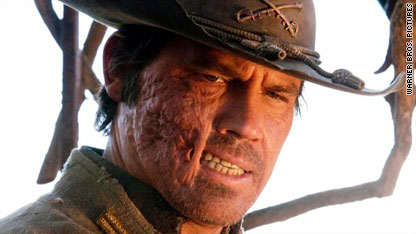 Last summer's action adventure film featuring a scantily clad Megan Fox was "Transformers: Revenge of the Fallen." This summer's action adventure film featuring a scantily clad Megan Fox is "Jonah Hex."
Josh Brolin plays the title character, a scarred bounty hunter who makes a deal with the law - his freedom in exchange for hunting down a massively dangerous terrorist. Hex is incredibly tortured with a sweet tooth for revenge and doesn't get close to anyone except a prostitute named Leila (played by Fox).
The bad guy in this one is John Malkovich, who, coincidentally, has been added to the cast of "Transformers 3." "Jonah Hex" hits theaters June 18.
Perhaps the hardest working man in showbiz, Malkovich is also the male lead in "Secretariat." No doubt hoping to capitalize on enthusiasm surrounding the recent Kentucky Derby, Disney is out with the trailer for the horse-friendly film.
The movie is based on the true story of "Secretariat," who in 1973 was the first U.S. Triple Crown champion in 25 years. A lot of people consider him the greatest racehorse of all time because he set records that still stand today at both the Kentucky Derby and Belmont Stakes.
Directed by Randall Wallace, who also wrote "Braveheart," the movie also stars Diane Lane, who plays the owner of Secretariat, Penny Chenery. The real Penny Chenery is still alive and at 87 collaborated on the film and is even featured as an extra in one scene. "Secretariat" races onto the big screen October 8.
Warner Bros. has another animal-themed film of sorts coming out called "Splice." The sci-fi thriller stars Adrien Brody and Sarah Polley as genetic engineers who learn how to successfully combine the DNA of different animals to create entirely new species. Things get crazy and ethical boundaries are seriously challenged when human DNA enters the picture.
What starts out as a dream creation for the human race soon turns into a real nightmare for the whole planet. The subject matter in this film strikes me as the kind that might turn into some good post-screening conversation and debate. "Splice" cuts into theater on June 4.