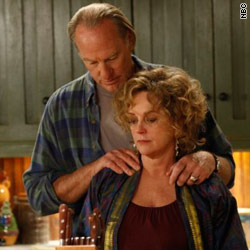 We finally get most of the deal on what's up with Zeek and Camille.  The heads of the Braverman clan have been keeping secrets, from each other and from their kids.
We've seen hints of problems since the show started, but it comes to a head at a Braverman gathering.
Crosby spent the night at Jasmine's. We join them as they do the "We can't let the kid know Mommy's friend spent the night" scramble, even though Mommy's friend is Daddy.
Jabbar finally catches Crosby one night, and Jasmine seems to have second thoughts about the second go round on the relationship.  Crosby is continuing on the road to adulthood and assures her he wants to be with her.
Hyper competitive Julia is going to take over coaching Sydney's soccer team.  Even the five-year-old thinks it's a bad idea.
What's going to make it worse?  Zen mom Raquel is coaching another team, and she's got five-year-olds running World Cup style drills, while Julia's group is sharing cute kindergarten tricks.
And after Julia's team loses 11-0, Zen mom comes to offer one of her players, 'cause she has so many good ones. (I really don't like this chick) Julia looked like she was thinking about it, until she sees nephew Jabbar playing by himself and making every shot.  Turns out Jabbar is quite the little ringer and he helps the team win the game.  The team they beat is coached by Zen mom (bonus!), complete with tie-dyed uniforms.
In the teen-angst portion of the show, Haddie's boyfriend is trying to get her to sleep with him.  She doesn't, and then breaks up with him.  She talks to cousin Amber about it.  Amber says she did the right thing, deciding not to lose her virginity when she knows he's not the right guy.  Amber runs into the now ex-boyfriend while she's working at the country club.  At first, he wants Amber to talk to Haddie for him.  Then he hints that he likes her.  Amber excuses herself immediately. As troubled as she might be, Amber does seem like one of those "wise beyond her years" kind of kids.
The club has what appears to be an eighties party. I'm going off topic here for a minute, because being a child of the '80s, I have to say I am appalled. There were several bad Madonnas and a horrible Hammer, the requisite Don Johnson imitation (or was it Corey Hart?) and a pitiful "Purple Reign"-era Prince dancing to "Come on Eileen."
I understand the stuff we used to wear in high school may seem questionable now, but this was just uncalled for. Besides, that much synthetic lace and hairspray in one room must constitute a fire hazard.
Back to topic; Haddie's ex apparently likes Amber.  He's trying to cozy up to her and she seems to like getting the attention from the good guy for a change.  I'm sure nothing good can come of this.
Zeek's money issues are getting desperate.  Sarah finds some of his things at a pawn shop, including a prized Reggie Jackson autographed baseball.  She talks to Adam, who tells her about their dad's financial problems.
Later the Braverman kids get together and decide to have a family meeting about it.  Camille didn't know about the financial issues, and once she finds out she hints at some other problems.  That's one Braverman get together that wasn't warm and fuzzy.  Turns out Zeek has cheated on Camille, who tells Sarah the day after the dinner.  Even though Sarah had an idea something was going on, you could see how hurt she was to know it for sure.  There are some things you don't ever want to hear about your parents, no matter how old you are.
The show ends with Zeek showing up at Adam's door with a bag in his hand.
What do you think?  Have Zeek and Camille shared too much with the kids, or since they are adults, is it OK to let them in on their problems?  Let us know what you think.