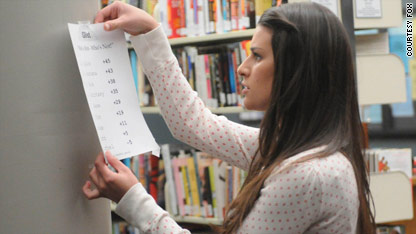 testing captions
How does one get on the "glist?"
Such a great plot line on "Glee" Tuesday night when the gang found out that there was a list ranking the hotness of the Glee Club members which struck me as totally realistic and oh, so high school.
Poor Rachel was at the bottom of the list while Mercedes and Kurt didn't even rate a ranking (ouch!). The hilarity ensues as people try to improve their standing on the glist.
Over in teachers land, Will a.k.a. Mr. Schuester is labeled a "man-whore" after Emma finds out about his make-out session with the coach for Vocal Adrenaline and that he "slept" with April (though we all know that nothing happened).
It was nice to see the dysfunctional Emma in a mode other than "swoon for Will." Their relationship is turning out to be much more complex, and therefore delicious, than I had anticipated.
Still loving Brittany's one liners and it was great to see her link up with Artie and the gang for a rendition of "Can't Touch This." I get so used to seeing Britt in a two shot with Santana that I enjoyed watching her branch out.
But what really sent me over the top was Coach Sue Sylvester's duet with Olivia Newton John. "Let's Get Physical" has never been more fun even though they auto-tuned actress Jane Lynch who plays Sue within an inch of her life.
It was also nice to see Sue get a bit of the taunting thrown back at her. And her scenes with her sister who has Down Syndrome were beyond touching. I love to hate Sue, but I also don't mind loving to love her a little bit too.
And raise your hand if you have found yourself singing Bonnie Tyler's "Total Eclipse of the Heart" since the last scene of the show. Yeah, me too!