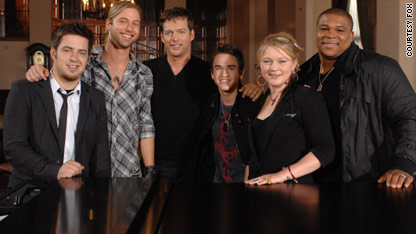 testing captions
Luck be a lady tonight!
We are down to the Top 5, and Tuesday night the theme is the songs of the Chairman of the Board, Ol' Blue Eyes, Mr. S himself: Francis Albert Sinatra.
I have to say, I think Harry Connick Jr. is the perfect mentor for Sinatra night. If anyone knows how to bring the pipes, personality and the cool, it's Harry (insert your own "I'm just wild about Harry" joke here).
We are inching closer to crowning this season's "American Idol" and I wonder if Crystal "MamaSox" Bowersox is feeling the heat, being the only female left in the competition?
Each week it's getting more difficult to predict who is going home because all of the contestants have been stepping up their game. That's good for us, since we've been struggling through what has arguably been a painful season.
Join CNN tonight and throughout the "American Idol" season as Lisa Respers France blogs live during the performance and result shows.