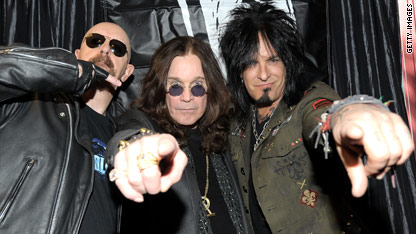 testing captions
Heads-up headbangers. "OZZfest" returns for 2010 with a bill co-headlined by Motley Crue and the Prince of Darkness himself, Ozzy Osbourne. The tour reunites the two metal giants, who haven't shared a stage since a 1984 trek best remembered (or not remembered, in this case) for its rock and roll debauchery. Each will play full sets, as will Rob Halford - who was last seen at OZZfest in 2004 with Judas Priest. This year's extravaganza kicks off August 14 in San Bernardino, CA, then travels to five other cities - Chicago, IL, Hartford, CT, Camden, NJ, Pittsburgh, PA and Boston, MA.
The announcement was made by in the bordello-like studio of Motley Crue's Nikki Sixx, who hosts a daily radio show out of Sherman Oaks, CA. Creepy artwork lined the walls, while leopard carpet padded the floors and sculptures of hands graced wood tabletops. All the comforts of home for a rock star.
Speaking of home - Halford has a residence in Phoenix, although he's "not very happy with Arizona at the moment." When pressed about his feelings, he told CNN he's examined both sides of the state's new immigration bill - which allows authorities to request proof of U.S. citizenship when people are suspected of a crime (ie speeding) - and found it to be "racist."