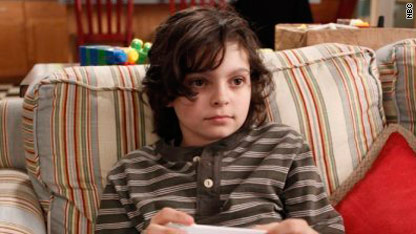 It seems like last night's theme was revisiting the past.  Kristina's thinking about going back to work, Adam breaks out some old school dance moves and Crosby and Jasmine hit the reset button on their relationship.
Crosby is spending time with Jasmine and their son.  I suppose now that she's gotten the pesky "Hey, guess what, you've got a son I didn't tell you about, I kept you from him for five years and I alienated you from my family in the process" business behind them, everything is cool.  Crosby decides he wants to get to know her better and asks her on a date.  There's a bonding scene with Jasmine, Crosby and Jabbar that in my opinion would have been much cuter had it not taken place in the bathroom.  (So glad there were no sound effects!) But they are bonding.  And Crosby and Jasmine do some overnight bonding of their own.
Drew finally gets a little something to do in an episode.  He's crushing on a classmate and he's planning to go to a school dance. Drew goes to good old Uncle Adam looking for dance lessons, and finds a few problems.
Problem one, Adam references "Saturday Night Fever."  Problem two, he turns on old school Run-DMC ("It's Tricky") Drew was looking for slow dancing tips and he got some kind of Elaine from "Seinfeld"-Erkel- Electric Boogaloo mash up.
Later Adam tells him the moves are in the Braverman genes.  Drew says that's what he's worried about... as well he should be.
After some girl/mom talk about dealing with daughters who lie, who might be getting too close to boyfriends and who isn't interested in college, Kristina kicks off the group line of the night:
Kristina: "You know what the problem is for mothers?" Sarah: "Daughters" Julia: "Amen."
Kristina gets a call from a former colleague who's running for lieutenant governor.  She needs Kristina's help with the campaign.  Adam and Kristina decide she should do it, even though she's worried about how Max and Haddie will do without her for three days.  It's hard to tell which might be tougher for her, dealing with mom-guilt or condensing down a position paper into a tweet.
She seems to pick up where she left off when staffers are trying to get an endorsement.  She knows the assemblyman's history, and tells him while competitors are tweeting about a problem, her candidate has an action plan. 
That plan works for Kristina, too, because she gets a full time job offer.  Adam is supportive of her taking it, but when he starts talking about making arrangements to get things handled when she goes back to work, something happens.  Actress Monica Potter's face goes from happiness and anticipation through some combination of panic and disappointment and guilt in all of 10 seconds.  Kristina says she can't take the job because her kids need her.  But when Adam asks how her meeting went, she gets animated and happy again.  You see how much she loves her work.  I hope she can figure out how to do it.
What do you think?  Is Kristina making the right decision for her family, or is she sacrificing too much?  Let us know what you think!