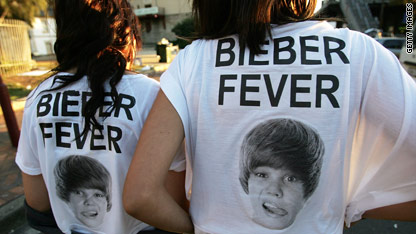 Has Bieber Fever gone too far?
Upon arriving in New Zealand, the 16-year-old pop sensation's hat was stolen, and his mother was knocked down by a crowd of about 500 that was waiting for him at the airport, according to MTV.com.
The teen ended up issuing an appeal to the masses via Twitter, requesting that they take their adoration down a notch.
"Finally got to New Zealand last night," Bieber said on Twitter. "The airport was crazy. Not happy that someone stole my hat and knocked down my mama. Come on people."
He continued, "I want to be able to sign and take pics and meet my fans but if you are all pushing security won't let me. Let's keep it safe and have fun."
This frenzy comes just two days after eight people were injured in Sydney, Australia, when a swarm of about 5,000 fans got out of hand.
Since the incident at the New Zealand airport, however, Bieber appears to be in better spirits. He's gotten his hat back - "no hugs. no thanks u's. just glad they did the right thing. I dont condone thievery," he wrote on Twitter - and has called his stop down under "a great success."