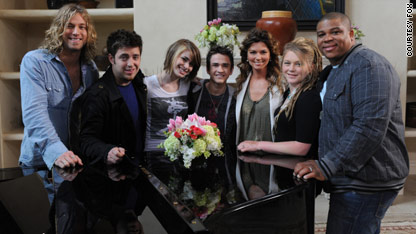 testing captions

SPOILER ALERT!!! Tonight's blog entry will reveal the contestant being sent home from "American Idol." Don't read any further if you don't want to know the results.
9:56 p.m. – And the person going home tonight is ...
Siobhan Magnus!
MamaSox looks devastated. We get a look at Siobhan's journey before she sings us off with "Think."
9:46 p.m. –Shakira busts out the harmonica for her song "Gypsy," and Rascal Flatts backs her.
She's rocking a prairie skirt with a sparkly gold top. It's like she is Beyonce on top and Loretta Lynn on the bottom.
She and her back up dancers did a little bit of moving, but it wasn't the hipalicious performance I was expecting. I dug it all the same. She does manage to quote President Roosevelt with a line I only ever heard Casey Kasem use.
Back to the elimination: "Big Mike" is safe, and Lee greets him enthusiastically over in the safe section. That leaves us with Casey and Siobhan.
9:37 p.m. –Lady Antebellum = The bomb!
Love "Need You Now." With all of this killer music tonight, who even needs an elimination?
9:29 p.m. – Hey Carrie Underwood!
She's back to introduce the group Sons of Sylvia, who sing "Love Left to Lose." I dig them. Their lead singer looks hella intense though. He is not fooling around.
9:14 p.m. – Ryan Seacrest is in the new "Shrek" film?
I swear there is no work left in Hollywood thanks to this dude.
The gang looked like they had a great time visiting the studio and attending a special screening of the movie. I want some "Shrek" horns now.
Two of the films stars, Antonio Banderas and Cameron Diaz, show up on the "Idol" stage, and Antonio tells Seacrest he is the "best host in the world." Loved Antonio saying "Dim the lights" in the Puss -in- Boots voice.
Finally we get to the results, and Siobhan Magnus is up first and sent to the far end of the stage to form the first group.
Then we have Aaron Kelly who heads to the center of the stage. Then "Big Mike" forms a third group. Good Lord they are making this complicated out of the box. Lee DeWyze stands and is sent to the far side of the stage with Siobhan. Uh-uh.
Cutie Casey James is sent to stand with "Big Mike." So does that mean Crystal "MamaSox" Bowersox gets to go stand in the center with Aaron?
Yes, she does after Ellen DeGeneres explains that she doesn't think MamaSox is in trouble this week.
Ryan walks Siobhan over to "Big Mike" and Casey, and they are the bottom three. Wow that was convoluted.
9:11 p.m. – Oh joy, behind-the-scenes footage of the weekly  commercials.
Everyone is a vampire, and "Big Mike" Lynche is the victim. Seriously, all he would have to do is lift everyone up and toss their undead behinds.
I imagine the "Twilight" fans are loving this.
9:03 p.m. – America cast 33 million votes. Wonder who got the most?
We start the show off with Rascal Flatts who I love, love, love. They are such a great group, and I dig their song "Unstoppable."
Finally a guest artist/group who actually sound great live!
Don't really get them and Shakira, but we shall see.