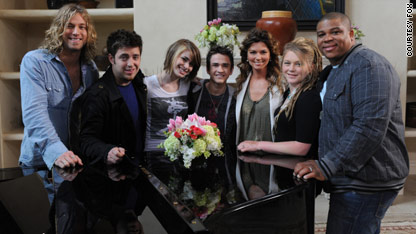 testing captions
8:56 p.m. – Siobhan Magnus always seems to sound better in rehearsal than live, and I don't get that.
She sings "Any Man of Mine," and she manages to strip all of the fun out of a rollicking country tune. Her walking around and interacting with the audience didn't help.
Neither did the big note at the end.  I'm so going to take heat for this, but I don't get why people adore this chick.
For me, definitely the weakest performance of the night.
8:46 p.m. – One of the things I love about Aaron Kelly is that he is hanging in there despite being so young.
He's like the baby brother of the group, and he's so sweet.
He sings "You've Got a Way," and he works it out. I would have been shocked had he not done well on a country song, but he impressed me. Then he really got me when he almost started crying as he explained that he was singing to his mom.
All together now: Awwwwwwwwwww!
8:36 p.m. – Crystal "MamaSox" Bowersox has a message for her man.
Dude better get it together as she just dropped a huge hint that she wouldn't mind becoming Mrs. MamaSox.
She sings "No One Needs to Know," and it is decidedly rockabilly. Coming off of her powerful performance last week, it wasn't as strong as I expected.
The judges didn't love it either. Kara tells her she always comes from a place of "truth," and it's as close to a Paula Abdul moment that chick has gotten all season.
Of course, Simon comes in an makes it rougher than it needed to be at this point. She didn't stink; she just wasn't as mega-awesome as she usually is.
Loved the shot of her cutie pie boyfriend, who needs to be shopping for rings right about now, I'm thinking.
8:25 p.m. – I swear Casey James has the best hair on the show this season.
He's singing "Don't," and Shania has to give him a dose of confidence. And I love that she sang along with him a little bit during rehearsal.
He performs behind the judges and that still throws me off. Casey promises that he will give the audience something different tonight, and he does.
He sounds much more pop-oriented as opposed to his bluesy style. He sounded great, and I really enjoyed it.
OMG, are these people finally stepping up their game this season? Please say it is so!
Funny moment when Simon told Casey he should go give Shania a kiss on the lips, and you could totally tell he wanted to, but she gave him friendly hug. LOL!
8:14 p.m. – "It Only Hurts When I'm Breathing" is a great song.
Like Shania, this song fills me emotionally. That's why I really needed Mike Lynche to connect with the melody and the lyrics.
He sang it like he wrote it, and Shania had tears in her eyes. "Big Mike" is a straight balladeer, and that song in his hands was lovely and touching.  He needs to stay in this lane.
I totally see the Luther Vandross comparison, but I am confused by Simon's assertion that the performance was "wet." Huh?
8:02 p.m. – It doesn't seem like Shania has been on the scene for 15 years. Wow.
She looks great, and I suspect she will be as a great mentor as she's a killer singer/songwriter.
Lee Dewyze chooses "You're Still the One," and I could easily hear his version as a hit pop song. He does this crazy, singing out of the side of his mouth thing, though that disturbs me.
Shania was loving him in rehearsal, and the judges dig his performance. Ellen cracks the obligatory "All aboard the Shania Twain," and I am glad we got that out of the way.
Lee is so headed to the finals.