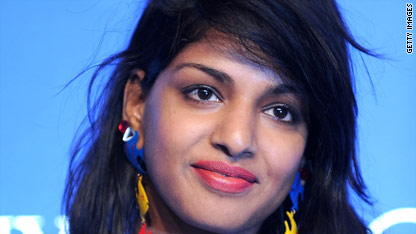 testing captions
Lady Gaga is not the only artist stirring the pot these days with graphic music videos.
Sri-Lankan singer/rapper M.I.A. is raising some eyebrows with her violent and explicit new music video for her song "Born Free."
The almost nine minute video shows a police force rounding up young, red-headed men and includes such graphic scenes as a young man being shot point-blank in the head and another being blown to pieces.
On Monday, Rolling Stone reported that the music video had been pulled from YouTube. M.I.A. also tweeted from her official account that it had been banned from YouTube and appeared to take her anger out on her record label, Universal Music Group.
"(Expletive) UMG who won't show it on YouTube," M.I.A. wrote before directing fans to her website, MIAUK.com, to watch the video in its entirety. She later backtracked to acknowledge that it was not UMG's fault.
While "Born Free" is not included in the VEVO channel which features many of her other videos, a search of the site on Tuesday morning turned up the uncut version of "Born Free" on a few account holders' pages.
The video was directed by filmmaker Romain Gavras, the man who was behind another graphic video for the song "Stress" by Justice. He is the son of acclaimed film director Costa Gavras.