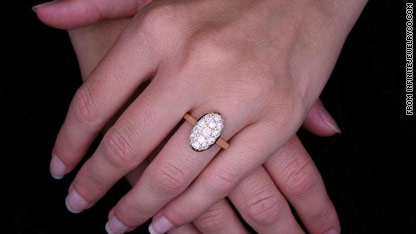 Stephenie Meyer's vampires and the awkward teen girl who loves them may be fiction, but the engagement ring Edward presents to Bella in the "Twilight" series is now a real piece of jewelry up for purchase.
Meyer co-designed the bauble with Infinite Jewelry Co. to match the description in her book, which, as TresSugar.com points out, you can see in the latest trailer for the upcoming movie in the "Twilight" saga, "Eclipse."
The jeweler offers a "genuine" version of the ring in 14k white or yellow gold, and it's currently on sale for $1,979 dollars. Those who are looking for less of a commitment can pick up the fashion version for $35, or the "fine" version of the ring for $479.
All the rings come in both white gold and yellow gold, but as Infinite Jewelry Co. instructs buyers, "The ring that Edward gave to Bella is described as gold, so if you want your ring to be exactly like Bella's, order Yellow Gold."