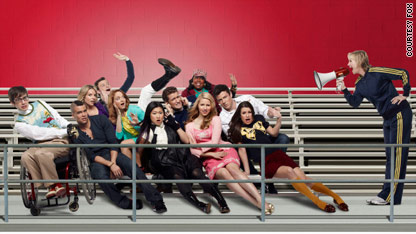 testing captions
I have to reiterate my Facebook status from Tuesday night: "Glee" + Madonna = Perfection.
The long anticipated homage to Madge was well worth the wait with spectacular musical numbers, hilarious dialogue and the "will they or won't they" simultaneous scenarios with Rachel and Jessie, Santana and Finn and Will and Emma.
"The Power of Madonna" had it all. Culture references (WWMD – What Would Madonna Do?) plenty of snarkiness from Coach Sue Sylvester towards Will and the genius moment when students dressed as the various incarnations of Madonna wandered the halls.
This ensemble cast is so great that you want everyone to have equal time and I am so happy that the characters of Santana, Brittany, Artie and Tina are getting more air time.
And speaking of breaking out, how about Kurt and Mercedes joining the Cheerios? I loved their "makeover" of Sue for the "Vogue" video and their performance of "4 minutes" with the band was sooooo good!
As always, the music was a co-star and you can't really go wrong with the songs of Madonna. Rachel's voice on "Like A Prayer" almost rivaled the original.
Now that's how you pull off a theme night. Did you catch that "American Idol?"