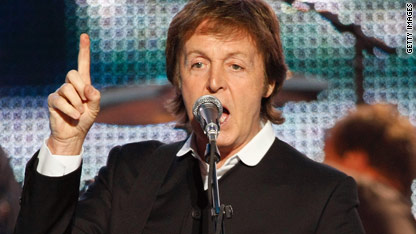 testing captions
Get ready for a deluge of Paul McCartney music.
The ex-Beatle and Wings-man, 67, has agreed to let Concord Music Group market and distribute his entire solo catalog. The new agreement will kick off in August with the re-release of 1973's "Band on the Run" album and include all of Macca's post-Beatles work, starting from 1970's "McCartney" and running through last November's "Good Evening New York City."
McCartney first teamed up with Concord in 2007 when he signed a deal with Hear Music - Concord's partnership with Starbucks - to release "Memory Almost Full." Most of the albums from his catalog were originally released by Capitol/EMI, though McCartney did have a stretch in the late '70s and '80s with Columbia.
"Since the release of 'Memory Almost Full' in 2007 I've had a good working relationship with Concord and enjoyed our mutual love of music," McCartney said in a statement. "I'm looking forward to continuing this relationship with the new catalog campaign."
Concord, an independent record label owned by TV producer Norman Lear, has been particularly aggressive of late in buying up other record companies and marketing its artists. Its labels include Fantasy, Stax, Telarc, Specialty and Rounder, which means its catalog includes works from artists such as Creedence Clearwater Revival, Little Richard, Miles Davis, Thelonious Monk and Alison Krauss.
McCartney's Beatles work will continue to be sold through the Capitol/EMI label, which reissued the entire catalog of Beatles albums last September.