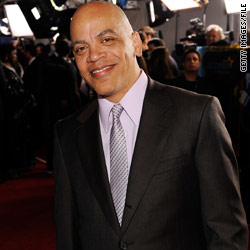 Looks like some of the viewers aren't the only ones abandoning "American Idol" this season.
In the midst of fans complaining about the lackluster talent this season and a reported ratings loss to "Dancing with the Stars" comes news that "Idol" is losing its music director.
Rickey Minor will make his on-air debut as the new music director on "The Tonight Show with Jay Leno" on June 7. He will replace Kevin Eubanks, who recently announced he is leaving after 18 years with the show.
On "Idol," he has been an important member of the team, helping to guide the contestants through their performances.
Contestants and Ryan Seacrest have often offered up thanks to "Rickey and the band" for artfully executed arrangements and great playing.
Seems like folks are jumping ship left and right on "Idol," with Paula leaving, the announcement that this will be Simon Cowell's last season and now the loss of Minor.
Could it be that they have, like long time fans, taken note that the show just isn't what it used to be? The judges have not been thrilled this season with some of the song arrangements so I wonder if that at all played into the parting of ways between the show and Minor.
And it will be interesting to see who "Idol" replaces Minor with for next season. New judge Ellen DeGeneres has gone on record as saying she has a vote in who replaces Simon Cowell and I wonder if she will play any role in naming Minor's replacement.