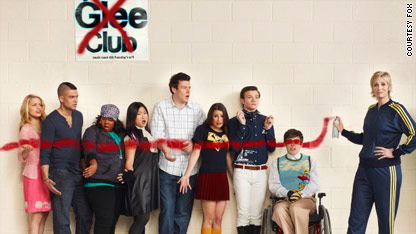 testing captions
How do I love "Glee?"
Let me count the ways!
The gang from McKinley High returned from a break (that felt like a zillion years) and I, for one, couldn't be more thrilled. There was drama, treachery, tension, romance and best of all, the diabolical deliciousness that is Cheerio coach Sue Sylvester.
The Gleeks had to come up with songs that featured the word "hello," which was a nice nod to the introduction new fans are receiving and the re-acquaintance of those of us who already *heart* this show.
We learn that Rachel and Finn are now officially an item, but that lasts all of ten seconds since he's still pining for pregnant Quinn and the adoration he received when he was just the school's star football player and not a member of the show choir.
Having blackmailed the principal to make her way back on staff, Sue is determined to break Rachel/Finn up and employs the use of cheerleaders, Santana and Brittany. I love that the writers aren't just reserving the best lines for Sue, and I hooted when the dumb-as-a-box-of-rocks Brittany turned to Santana and said "Did you know that dolphins are just gay sharks?"
Rachel ripped into Finn with her rendition of All-American Rejects' "Give You Hell." It reminded me of how seamlessly this show combines plot and music. I felt alternately happy for her and bad when Jesse St. James showed up. You just know that the star of the rival show choir, Vocal Adrenaline, is up to no good.
I am praying that their coach, played by "Wicked" star Idina Menzell, turns out to be Rachel's mom. The two women look so much alike that when she was making out with Will Schuester on the couch, I had half a second of freak out thinking he was getting down with Rachel.
Mr. Schuester's love life is a whole other matter and I loved the sweetness of his relationship with germaphobe and fellow teacher Emma. Even their break up was adorable.
All and all, I am just so pleased to have this show is back on the air and I can't wait for the season to progress. And the video of Sue doing "Vogue" in anticipation of next week's Madonna episode was GENIUS!!!