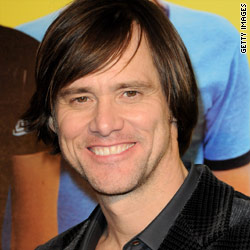 Jim Carrey may have let loose some interesting tweets in the past week - first announcing his split from Jenny McCarthy, and then commenting on Tiger Woods's marital issues - but in a statement regarding the recent press coverage of his Twitter feed, Carrey said he didn't mean any harm.
"To anyone whose grievances have chosen me as their cause, I would say first, that I recognize that tendency in myself, but if you knew me well, you'd see that your resentment has been misplaced," the actor said.
"I wish every human being nothing but love and immeasurable happiness," his statement continued. "Now, I'm going to re-enter the Twitter stream and see if there is anyone left to offend!"
Earlier this week, his flurry of tweets caused some to express concern, but Carrey has assured everyone that he's not having a breakdown, but rather a breakthrough.