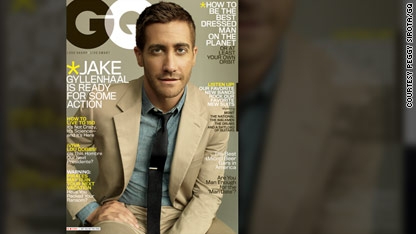 There was a time when Jake Gyllenhaal thought the most important job for a man was to find the right woman. Now? The actor's not so sure, as he told GQ magazine for the May issue.
The actor, who gives a brief "it's okay" response when asked about how the single life is treating him, said romance is a two-way street. "I think it's more important for every man to find the right woman and for every woman to find the right man."
But is it the most important thing? Gyllenhaal gives a resolute no. "Who am I to say what the most important thing in life is? The best answer that I could give to any of these things is that I really don't know. Particularly right now in my life."
One thing Gyllenhaal does know for sure is that his upcoming role in "Prince of Persia: The Sands of Time" turned into a dream job. "I'm excited about it," he said of the movie that he at first thought of as an unlikely gig. But he discovered "there's a great character in the middle who I could play and have fun with," he told GQ.
Lucky for Gyllenhaal, he also found beefing up for the role to be pretty fun as well – "Prince of Persia" director Mike Newell said he wanted Gyllenhaal to "look like courage." So the actor, who'd already packed on eight pounds of muscle for his role in 2009's "Brothers," added on another four. "I'm a really athletic person, so I got off on thinking, 'how can I get my body into a shape to be him?' I love doing it. It keeps my mind focused and clear."
Gyllenhaal didn't mention any on-set spats with "Persia" co-stars, but the actor does have a bit of history with them. On the set of 2005's "Jarhead," he walked the line between acting like he was punishing fellow actor Brian Geraghty and actually punishing him, the movie's director Sam Mendes told GQ. Although Gyllenhaal doesn't think he slapped Geraghty around, when he tried to apologize, Geraghty told him he was crazy, called him a loose cannon and didn't speak to him for a month.
But perhaps the biggest lessons Gyllenhaal learned came after filming "Brokeback Mountain" with the late Heath Ledger. He and Ledger also had their tiffs, but in the end, Gyllenhaal said they balanced each other out. After Ledger died in 2008 - something Gyllenhaal said he still doesn't like talking about - it made him realize that he was hiding in his work.
"It was like my work was the only thing that mattered to me...I could only understand or define myself through doing that. Life, I didn't totally understand. And I think I was afraid of life," he said. "But after that happened…I think I recognized that it was work. And I recognized that this [life] is for real."