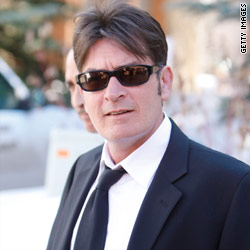 Charlie Sheen's representative has issued a statement in response to an In Touch Weekly report that the "Two and a Half Men" star has been allegedly cheating on his wife, Brooke Mueller, with a lingerie model.
Sheen, who faces domestic violence charges from a Christmas Day incident involving Mueller, is accused of regularly leaving the Malibu rehab center where he's been receiving treatment and going to the lingerie model's home.
In the statement, Sheen's rep said the actor "was only responding to a 12th step call," adding that "the woman in question is the sister of one of Sheen's campmates."
Photos in the weekly magazine depict Sheen wearing a hooded sweatshirt, dark sunglasses, and what was described as a "Magnum P.I." style mustache.
However, his rep said that "since Sheen knew he was being followed and how this would look, he wore the mustache in a tongue and cheek disguise gesture."