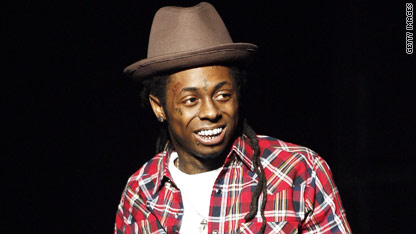 Rapper Lil Wayne and his management are making good on their earlier idea that the rapper should still be able to communicate while he's serving a year-long prison sentence.
While it's not exactly a Twitter feed, Wayne and his team have set up a Web site called WeezyThankxYou.com, just to let his fans know that he loves them. "During my prison stint...I want all of you to know that I appreciate all the mail that I get, and this is my way of saying thank you," Wayne – or one of his people – wrote.
Since - according to the countdown clock on Wayne's Web site at the time of this posting - he has 212 more days to go, sending him a letter "will be the best way we can communicate for the coming months," Wayne said in the first post. "The same way yall miss me, I miss yall, only 100 times more."
The site will serve as a way for Wayne to catch his fans up on what life's like for him on the inside, which so far, includes a lot of working out, some Bible reading and a soon-to-come blogging gig for ESPN.com.
He also plans to try to respond to as many of his letters as he can on a weekly basis. "If the weight of the world is on your shoulders, I beg of you, place it on mine. That's the least I could do for you, after all you have sacrificed for me. If I could, I'd write each one of you back," Wayne wrote in his first letter.
In closing, he added, "No matter what they do to erase me, my love for you will always be permanent."