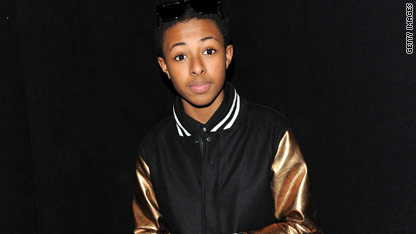 testing captions
Clearly the rap gene runs in the Simmons family.
Daniel "Diggy" Simmons, son of Run-DMC co-founder Joseph "Rev. Run." Simmons has landed himself a record deal.
The 15-year-old signed with Atlantic Records a day after his birthday and told the New York Daily News that he scored the contract on his own.
"I worked for it all," the younger Simmons told the paper. "My dad didn't shop me around at a label or anything."
Diggy, his parents and siblings were the stars of the hit MTV show "Run's House." His uncle is music and fashion impresario Russell Simmons.
The aspiring rapper used the Internet to create buzz for his rhymes and his sister took to the Web to blast critics who she believes have been trying to stir trouble between Diggy and their older brother JoJo who is also an aspiring musician.
Bossip.com reported that after some tweeps took to Twitter to tease JoJo about his lack of success in the industry, sister Angela expressed her displeasure.
"People need to stop trying to create a competition between my siblings," the site reported she said. "Trust me if one of us make it we are all happy."