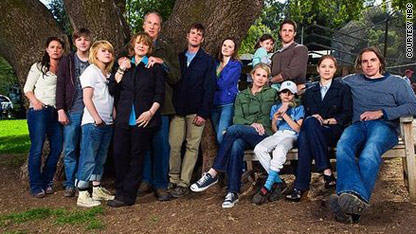 testing captions
Crosby seems to be making a good effort at embracing the fatherhood thing. Adam is helping him child proof the houseboat so he's ready for Jabbar's next sleepover.
In this case, child proofing also includes hiding Crosby's drug paraphernalia and random women's undergarments.  Adam is also dispensing his usual brotherly advice, telling Crosby how innocent little kids look when they're sleeping. The fact Crosby somehow relates that to watching his "hell cat" girlfriends after they've passed out makes me think he doesn't quite get it.
Adam and Christina are going over the family bills when they discover huge cell phone charges on 15-year-old Haddie's line.  She's calling a number they don't recognize. And they do what any reasonable parent should do; they turn into Those Parents, the kind who go through their kids things and read the kid's Facebook page (I'm totally on board with that, by the way).
With Crosby's help, they hack into her computer to check her Facebook page.  Turns out she has a boyfriend she hasn't told them about.  When they confront her about it, she freaks because they've been in her room and on her computer. Before she stomps off to her room (and out the window), she yells at her parents, "Ok, who cares, homeland security, what you guys did is illegal."
They go looking for her at the boyfriend's parents' place, which turns out to be nicer than Adam imagined.  The line of the night goes to Christina, who says "Honey, don't judge a book by its cover, you can cook meth anywhere, I told you that."
They don't find Haddie but they do find out she's been hanging out there, and they know all about her family. Haddie went to talk to her cousin Amber about how to deal with nosy parents.  Adam and Sarah have the flip side of that conversation, with Adam on the receiving end of the parenting advice this time. Sarah says shut her down, no electronic contact at all, because apparently texting leads to teenaged sex.
Julia and Joel go on a date night, and run into Zen mom Raquel at the restaurant.  She's on a date night with her husband and their daughter.  She still hasn't learned to keep her hands or her nicknames off other people's husbands. After a little awkward chit chat, Julia and 'Joelsky' get on with their date.
There's a quick scene of Crosby and Jabbar playing with fire.  Actually, that's 'Jabbar with Crosby, who is playing with fire.'
Crosby's kid doesn't catch fire, but Jabbar does catch his finger in a soda can. That leads to awkwardness at the emergency room because Crosby doesn't know Jabbar's birthday or address.  Julia arrives for support and he has to tell her Jabbar is his son. She helps get her surprise nephew's finger out of the can, and there's a nice moment where Crosby tells Julia she's a good mom.
The show wraps up with another Braverman clan gathering.  This could eventually get cheesy but I still like it.
What is pushing it was Haddie bringing her boyfriend to the cookout to meet the family.  I can't see that sorting itself out so quickly, even with the nice mother-daughter chat Christina and Haddie had.
I'm glad that so far they haven't veered into unbelievable tragedy of the week, and I like that Christina and Adam skipped over the "let's be friends with our daughter" and got right to the snooping and the "you don't have privacy in my house." (I'm on board with that, too).
Do you think how they handled that was reasonable and realistic? Let us know what you think.