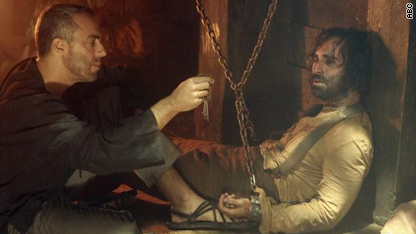 testing captions
[Editor's Note: You know the drill by now. If you haven't seen this episode of "Lost" yet, DON'T READ ANY FURTHER.]
Tuesday night's episode of "Lost" mostly took place in 1867, with the story of how ageless Richard Alpert came to the island. This was probably the second most highly anticipated episode for many "Losties" aside from the series finale itself, and it didn't disappoint.
One of the best parts of "Ab Aeterno" was the lack of any flash-sideways scene, which have been hit-or-miss thus far. Instead, we got a bonus flashback scene revealing that Jacob asked Ilana to protect the six candidates before sending her out on her quest.
Ilana was also instructed to ask Richard about what to do next. However, as we learned two weeks ago, he is officially fresh out of answers. Jack the believer was told by Richard that they're all dead and in hell. When Jack turned to Hurley for answers from Jacob, Hurley was actually conversing in Spanish with another unseen person.
Without too much ado, it's on to the big enchilada: in short, Richard lost his wife and accidentally killed a doctor on the same day. Condemned to death by hanging, even a priest offered him no comfort. At the last minute, he was saved by Magnus Hanso (great-grandfather of Alvar Hanso from the Dharma Initiative) and placed on the infamous Black Rock, which as we all know, shipwrecked on the island (taking out Jacob's statue in the process).
Between Black Rock officer Whitfield and the smoke monster, everyone but Richard dies. He's visited by his beloved wife who first tells him that they are dead and he is in hell. On the brink of death, he is touched, and saved by ... not Jacob, but the Man in Black. Once again, we see "Smokey" offering something that someone really wants in exchange for allegiance to him. The price for Richard's freedom? He must kill the "devil," Jacob.
Needless to say, Richard doesn't succeed in his quest, but Jacob does give him the gift (or curse?) of immortality. The Man in Black tells Richard that the offer to join him is always on the table, and 140 years later, Richard has changed his mind ... but not before Hurley shows up with a message from his dead wife Isabella, which keeps him, for now, on Jacob's side.
Wow. A lot to digest here ... specifically:
A lot of what we learn here has a lot to do with whether or not Jacob can be fully trusted. For example, he tells Richard that the island is like a cork on a bottle keeping all of the liquid (darkness) out, and the Man in Black believes that it is humankind's nature to sin, which Jacob wants to prove wrong. For now, we've been given every reason to believe him. (And I hope this isn't one of those Obi-Wan "Vader betrayed and murdered your father" scenarios.)
Isabella's final message for Richard is that the Man in Black cannot leave the island, or everyone on it goes to hell. So the island truly is the gateway to hell? Could it be that the early theories about the island being Purgatory were only slightly off?
Just like with the Man in Black, Jacob can only be killed if he doesn't speak first ... except that he said plenty to Ben before he was killed. Reason enough not to believe "Smokey" (aside from, you know, all the other lying and killing he did in this episode alone)?
Richard's immortality was given to him after he mentioned his fear of dying and going to hell (which he was promised by the priest) almost in passing. Jacob couldn't promise him what the Man in Black did (the chance to reunite with his wife, etc.). Is that because the Man in Black is more powerful, or Jacob is just the one telling the truth? Jacob did mention that he doesn't get involved beyond bringing people to the island, whereas the Man in Black gets quite involved.
Every moment Richard is at his breaking point, he is saved by an outside force. And what set Richard apart from the rest who were killed by the smoke monster?
How exactly was the Black Rock brought to the island? Did Jacob visit Magnus Hanso?
If the island is the "cork," is Jacob the protector of the cork? Jacob references his candidate replacements in 1867... was he the first person to have that job?
Everyone whom Jacob brings to the island eventually dies on the island, it seems. Does that mean that the Man in Black eventually wins their little cosmic bet over and over? Is Jacob given a black rock (wait a minute ...) for each one the same way the Man in Black was given a white rock?
Loved Michael Giacchino's music once again in this episode, especially during Richard's reunion with Isabella.
I could go on and on, but let's turn it over to you for now. Share your thoughts and theories on video, or in the comments below. Meanwhile, check out what iReporters have to say about it here and here.