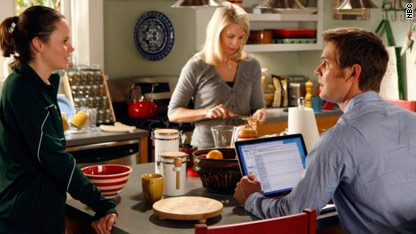 Sometimes I like when you can tell what a show or a movie is about from the title. And I like when show creators stick to what the show is supposed to be about.
So far, the people behind "Parenthood" are delivering on the premise of people dealing with different stages, trials and tribulations of being or having parents.
Max gets kicked out of school for turning over a fish tank - the bubbles were bugging him while he tried to work on a class assignment. Watching Adam and Christina trying to convince a school administrator to take their son into a new school is heartbreaking. So is watching their teenage daughter, who had a soccer final they completely forgot about. She finally tells her dad how she feels about her parents paying so much attention to Max for so long.
Crosby gets to watch his newfound son while his ex goes on an audition. They seem to be having a great time until the car ride. The combination of lactose intolerance and the hills of Northern California is not a good one for Crosby's cute little convertible.
He swings by Adam's place for tips on cleaning the car and being a parent. He complains about not being able to handle a kid. Which brings us to the best line of the night: "No, jackass. He's your son. Grow a pair, deal with it." The other thing Crosby still needs to deal with? Telling his fiancée about the kid. When she shows up at the studio and asks who Jabbar is, Crosby claims he belongs to someone else. Jabbar isn't too little to understand what just happened.
Adam is chock full of parenting advice. Julia is having a working mom moment. He tells her she doesn't "have to choose between being a mom and having to work." That might tie for best line of the night. He tells her to make the most of the time she has. Unfortunately, her effort to teach Sydney to swim turns out all wrong. Julia was a fantastic swimmer when she was in school and she doesn't think the new-age swim class her daughter is in is moving along fast enough. She takes matters into her own hands; Sydney ends up terrified and her husband Joel ends up mad.
At the end of the episode, the whole Braverman clan ends up at the local pool. It could have been cheesy, but I liked it. It came off like something a real family would do. What do you think? Does the Braverman family look like more like a family in your neighborhood than most TV families do?