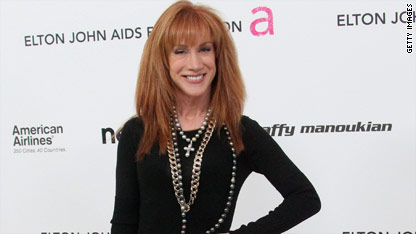 testing captions
Comedian Kathy Griffin is hoping to rally her large contingency of gay fans for a cause.
The star of Bravo's "My Life on the D List" is organizing a rally at Freedom Plaza on Thursday, March 18 in Washington, D.C., to help repeal what she calls "the antiquated policy of 'don't ask, don't tell.'"
"After traveling to Iraq and Afghanistan to perform for the troops and visiting with injured vets and their families at Walter Reed, I've gotten to meet and know many gay members of our brave military," Griffin said in a statement. "Their stories are heartbreaking, touching, and need to be heard."
"They cannot stand up for themselves, so it's time we stand up for them and be their voice," she continued. "They put their lives on the line for us every day, all the while risking getting fired, discharged, losing all their benefits and maybe even worse, just for being 'found out.'"
Griffin said she will be meeting with several legislators in D.C. throughout the week.