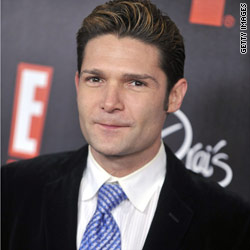 Corey Feldman was true to his word and did not attend the funeral for his best friend and former co-star, Corey Haim, out of respect for Haim's family's desire to keep the funeral out of the media spotlight.
Instead, Feldman wrote a heartfelt open letter to Haim on his blog, expressing his sorrow over being absent from the funeral, and his remorse that no one will ever understand him the way Haim did.
Feldman's mission in life, he wrote, became saving Haim's.
"I never gave up, I tried …I walked away, but I always came back, to let you know I was there. In a dark and lonely world with spiteful angry people we always understood each others pain," Feldman said.
The actor said in an earlier statement that he was planning a separate memorial for Haim, scheduled to happen within a month, where friends and fans can grieve.
"I will do my very best to help give you a memorial that is a celebration of your life the way you would have wanted it," Feldman wrote, "with everybody laughing and rocking out!"