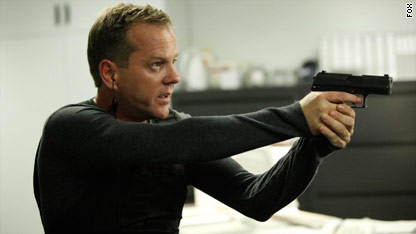 24: Day 8, 3 a.m. to 4 a.m.
Welcome back Bauerites... Where should we begin? I've got an idea. Let's start nine minutes into this latest episode of "24." As I recall, the nine minute mark is about the time five officers had already been taken down, and I said to myself, "Oh, it is SO ON tonight!"
For those keeping score, five officers down should be somewhere in the neighborhood of this entire season's tally of good guys getting offed. For time's sake, I'll be happy to confirm that stat in a future blog. Stay tuned.
Anyway, readers know I won't hesitate to wax poetic about speaking aloud to myself while watching (don't judge) and normally, that's a sign. If I'm talking to the TV, its either one of two things: either I'm hungry for something good to happen because there's some "dumb time" being taken in the show OR I'm being served a heaping helping of tense, action-packed Bauer-style drama. FULL POST