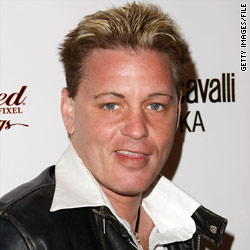 Corey Haim's last day alive was unlike any other in his decades-long struggle with drug addiction, his manager said.
"It's almost like he knew he was dying," Mark Heaslip said. "His personality was just different."
Corey Feldman, his longtime friend and frequent co-star, said he would not attend the Toronto funeral so the family can have privacy.
"Instead, I will remain in Los Angeles quietly mourning and planning his memorial," Feldman said.
His family and friends struggle to understand why the actor's life ended last Wednesday, just as he seemed to finally be getting it together.
The autopsy revealed Haim had an enlarged heart and water in his lungs, but the Los Angeles County coroner won't decide a cause of death until toxicology tests are back next month.
California Attorney General Jerry Brown said Friday he has evidence linking Haim's death to an illegal prescription drug ring.
But his manager insists it was not a drug overdose, but perhaps a drug reaction, that took Haim's life.
"He was really turning the tables on his comeback," Heaslip said. This included reducing his prescription drug intake from a high of 80 pills a day to nearly zero, he said.
Just weeks before his death, Haim began seeing an addiction specialist to help him completely kick his dependence, Heaslip said.  His manager and his mother suspect something went wrong with that treatment and that may have contributed to his death.
The tragedy is harder for family and friends to grasp because it came at a time when Haim had much to live for.
He was helping his mother with her cancer treatments, using income from two recent feature film roles to pay her medical bills, Heaslip said.
For years, while Haim was unable to work because of drugs, his mother kept a roof over his head.  Now, he was the adult taking care of her, Feldman said.
His manager recently signed Haim up for a "positive" reality show and more movie roles were lined up, he said.
Haim also was thinking of his show business legacy.  He wanted to get a star on the Hollywood "Walk of Fame," Heaslip said.
Haim also was thinking about how to help young people avoid drug addiction fueled by easy access to prescription narcotics, Heaslip said.
The actor recently talked about calling on California legislators to write "Corey's law," which he said should prevent doctors from prescribing more than a three-day supply of addictive drugs at one time, his manager said.