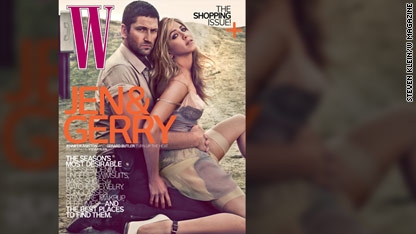 In a photo essay for the April issue of W, "The Bounty Hunter" co-stars Gerard Butler and Jennifer Aniston play a little game of cops and robbers, with Butler dressed up in uniform and Aniston playing the part of the suspect, clad in on-trend, lingerie-inspired outfits.
The inspiration for the shoot was a bit "9 ½ Weeks," said Aniston's hair stylist - and creator of the "Rachel" cut - Chris McMillan, with Aniston's look being reminiscent of Kim Basinger. "Which is even better, because then it started getting good," McMillan said.
The seven-photograph spread was shot over two days in mid-January on a ranch 45 minutes outside of Los Angeles. On the first day, Aniston's iconic hair was roughed up a bit, and by the beginning of day two, she got even dirtier.
Photographer Steven Klein asked McMillan to see if Aniston could show up without washing her hair first, McMillan said. "I mean, she was rolling in the dirt, it was windy and she had hairspray in her hair."
But, McMillan added, "Jen's always really super game."
The photos may be a little risqué for some, and have the potential to get a few tongues wagging like Aniston did when she posed on the January, 2009 issue of GQ in nothing but a tie.
McMillan, who's worked with Aniston for about 15 years, agreed that people may be shocked to see her let loose in the W spread. "They're going to be talking [expletive] as usual, but who cares," he said. "We don't care about that."