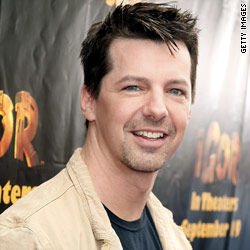 In the April issue of The Advocate, it looks as though Sean Hayes, who played the flamboyantly gay Jack McFarland on "Will & Grace," has come out of the closet. Sort of.
For the sitcom's run from 1998 to 2006, Hayes played the part of  Jack McFarland so well that it was only a matter of time before everyone inquired about his off-camera sexuality. Until now it was question that the 39-year-old actor steadfastly refused to comment on.
As he told the Detroit Free Press early in his career, "When I play a gay character I want to be as believable as possible. And when I'm playing a straight character I also want to be as believable as possible. So the less that people know about my personal life, the more believable I can be as a character."
The Advocate points out in their April interview with Hayes, that he never acted as though he were straight.
"I am who I am. I was never in, as they say," Hayes told the magazine. "Never."
So why didn't he ever spell it out for the media? For Hayes, the better question is, why should he?
"I believe that nobody owes anything to anybody," Hayes said. "You are your authentic self to whom and when you choose to be, and if you don't know somebody, then why would you explain to them how you live your life?"
With his role on "Will & Grace," Hayes said he feels "like I've contributed monumentally to the success of the gay movement in America, and if anyone wants to argue that, I'm open to it."