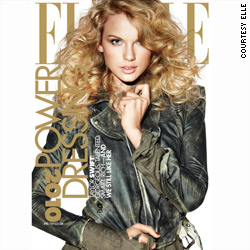 Country and pop music juggernaut Taylor Swift opens up to Elle magazine for the latest issue, and it turns out the "Fearless" songbird still has her fair share of anxiety.
Just three days from her 20th birthday when she sat down for the interview, Swift told the fashion magazine that while she's "had countless opportunities to do some really bad things" by hanging out with the wrong crowd, she's avoided those pitfalls.
Thus far, her biggest mistake has been forgetting to write diary entries while rehearsing for "Saturday Night Live," a clean record likely fueled by her biggest fear: "me making a bunch of bad decisions and embarking on a painful, slow, devastating tailspin."

For example, she said, "If I go to a bar, even if I'm not drinking, who's to say that a source isn't going to say that I was doing something I shouldn't have been doing. … It's not only about your own moral compass, but the moral compasses of other people you don't know."
For all of her reason and maturity – Swift has no manager, as she and her team are confident she can steer her own career – the singer/songwriter still retains the innocence that comes with being just out of one's teens.
Swift's upcoming greeting card line will feature lots of glitter and kittens, she promises, and her top three hotties are right out of J-14: John Mayer, Carter Jenkins and Taylor Lautner - and you probably knew the last one already.
Pick up the April issue of Elle to read the full interview.