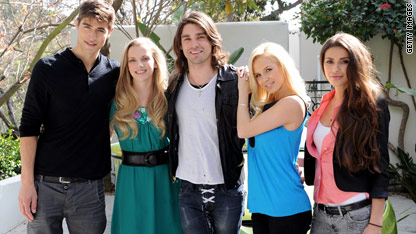 testing captions
What happens when the creative forces behind "American Idol" take "The Real World" concept and put it on the Web?
The answer to that question is the new online series "If I Can Dream," which debuts Tuesday on Hulu.com. The show follows five young aspiring entertainers who live together in Hollywood Hills while pursuing their dreams of stardom.
The group includes singer/songwriter and ex-Miley Cyrus beau Justin Gaston, 21; actress Kara Killmer, 21; actor Ben Elliott, 22; actress Giglianne Braga, 20; and former NFL cheerleader and model/actress hopeful Amanda Phillips, 24.
The series is the brainchild of Simon Fuller, the creator of "American Idol." CNN spoke with the cast members who said Fuller's connections in show business played a major part in their wanting to participate in the project.
"With Simon Fuller being behind it and who he is, I was like, let's do it," Gaston said. "With 'American Idol' sometimes you see a little bit of the life of the contestants behind the scenes, but with this you are going even more behind the scenes."
And behind the scenes on a 24-7 basis. The "Dream" house and car are outfitted with cameras, and viewers will have constant access to the castmates at IfICanDream.com.
Braga said being under constant scrutiny will be challenging, but also exhilarating.
"It's all eyes on us and it's the whole world," Braga said. "It's going to be a little strange, but I am very excited to share my experiences."
And at least one member of the house has been warned to be careful of the cameras.
"I think my mom is a little bit worried, but I'm excited," Elliott said. "She's always on me about slurping and covering my mouth when I yawn. She said 'You cannot do that when you get [on the show]."