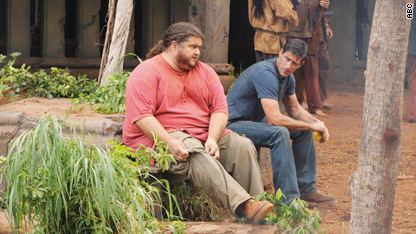 Thank you, Jorge Garcia, a.k.a. Hugo, a.k.a. Hurley for really saving Tuesday night's episode of "Lost." It was a stroke of brilliance to have Hurley see dead people, because his interactions with Jacob have been one of the highlights of this season. He also made this week's Jack-centric episode a lot more bearable.
Before we get to the real meat of this episode, there was another visit to the alternate timeline. And just in case it wasn't clear before, things are quite different there - seeing as Jack has a teenage son, with whom he has an uneasy relationship (yes, just like his relationship with his own father). One big, obvious question here: Who is his mother? And, oh yeah, the alternate version of Dogen pops up at a conservatory where Jack's son auditions.
Back on the island in the "real" timeline, Jacob tells Hurley to get Jack to follow him somewhere so they can help bring someone to the island. Jack being Jack, he's hesitant to go, but the words "You've got what it takes" convince him. On the way, they encounter the cave where they lived during much of the first season (remember that?) and they find the "Adam and Eve" skeletons, where Hurley puts forth a theory voiced by many fans that they're castaways having traveled through time. And since Hurley said this, I'm guessing that's wrong. Jack also reminds us that he found his father, Christian's empty casket there and smashed it. "Jack smash!" is second only to "Hulk smash!"
There are lots of references to Christian in this episode, including one by Claire, who mentions to Jin that he and "her friend" told her that the Others have her son. While Claire is tending to his wounds from the trap she set a couple of episodes ago, she also captures one of the Others at her makeshift camp, and he swears that they don't have her baby.
Right as she's about to kill him, Jin tells her the truth: Kate took and raised her baby. Right after this sinks in, she kills her hostage anyway. Did I mention Claire is off her rocker? Realizing this, Jin convinces her to return to the temple with him where the Others are keeping her baby. (Good news for Kate, who might be next on Claire's chopping block if she found out the truth.) He sees that she's lived like Rousseau in the jungle for three years now and, creepiest of all, has a replacement "baby" in a crib that resembles Norman Bates' mother at the end of "Psycho." Is this a preview of Sayid's future?
Tellingly, Sayid was not invited by Jacob to go on this quest with Hurley and Jack. The two eventually happen upon a lighthouse they've never seen before, where Hurley was instructed to line up the apparatus inside to 108 degrees (the total when you add "the numbers" together).
Soon, Jack sees what appears to be the church where Jacob met Sawyer as a kid. Then Jack sees his childhood home, when the lighthouse points to the written name "Shepherd." The candidate names, many crossed out, are all there, just like in the cave the Man in Black showed Sawyer last week. Jack freaks out, demanding answers from Jacob, who isn't in a hurry to show up and dole them out. So, altogether now - "Jack smash!" Who is at 108 degrees? Thanks to Jack, we'll never know. Could it be... Desmond?
Whoever it is, Jacob isn't too torn up about their chances of finding the island when he shows up to inform Hurley that this was all a ploy to get Jack to see the reason why he's here, and to get the two of them away from the temple because someone bad is coming. The two of them, and not Sayid anymore, I'm guessing, are still candidates, after all (no clarity yet on which Kwan is a candidate).
Who is that "someone bad?" I'll throw out the strong possibility that it's the Man in Black/the fake Locke, who is also Claire's "friend." I'll further assume that he's also responsible for the Christian sightings on the island all of these seasons. However, it still doesn't explain where his body went (and where his casket went in the alternate timeline).
As great as it was to find out more about Claire and the candidates, an episode with little or no Michael Emerson or Terry O'Quinn just isn't "Lost" at its best, so I'll hope for more of them next week. What did you think? What are your theories about the person at 108 degrees, and the mother of Jack's son (or do you even care about the alternate timeline at this point)? Share your views on video or in the comments below.