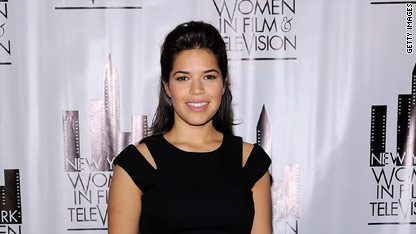 As America Ferrera says goodbye to "Ugly Betty" and, consequently, her braces, she welcomes a new chapter in her life as she prepares to walk down the aisle - on the big screen, that is.
Ferrera will star in "Our Family Wedding" as a bride-to-be whose relationship with her African-American fiancé causes a family feud.
In an interview with Parade, Ferrera revealed that, despite her role, she hasn't given much thought to a wedding of her own.
"I've never really been one of those girls who grew up imagining my wedding day and you know, dreaming about it," she told the publication. "It was weird to kind of experience the whole wedding scene - like saying your vows, first dance and cutting the cake. It felt a little like a real wedding, but I really have no idea what mine will look like."
Though Ferrera's excited to embark on a new journey, she said she'll miss portraying her character, Betty.
"I've lived with this character who I've loved from day one and I have only grown to feel more connected to her and also responsible for making sure her journey is a complete one," she said. "Her entire journey was about a transformation, kind of coming into her womanhood and owning herself both physically and emotionally. It's hard to say goodbye. I haven't really started going there yet because I still have four episodes to shoot. So I'm staying in denial for now and I'll deal with all those emotions in a little bit. I imagine that when we finally wrap it's not going to be a dry-eyed goodbye."