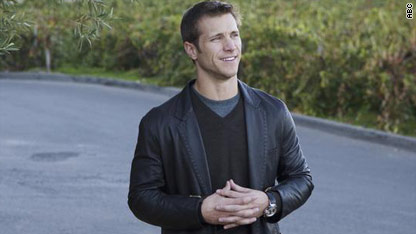 It's the "Women Tell All" episode, and Chris Harrison has brought a studio audience with him to let you know that.  We start with a pre-recorded interview with Jake, where Chris notes that everything Jake went through "was real."  This critic and countless others tend to disagree.
Back to the studio, where Chris looks at what he calls a "sexy new phenomenon" - "Bachelor" cast reunions.  Or, as ABC unofficially calls it, potential casting for this summer's "Bachelor Pad" spin-off.
Now, a word from Chris Harrison, who would like to remind you that "Bachelor" and "Bachelorette" alumni are obligated to give back to the community.  The community didn't ask, but here comes Jerry O'Connell's brother and others, helping fifth graders with a mural.  Now, are the 5th graders supposed to learn from the alumni or the other way around?
Meanwhile, Lorenzo Lamas' daughter tells us that "The Bachelor" is more than just romance - it's also about giving food to the needy.  My head hurts.
We're back in the studio, where Chris has assembled the "most memorable women" to talk about the show.  There appears to be 14 women on the panel, and I can only remember half of them.  Chris talks with Gia, who says being on the show was "the best experience of her life."  Obviously, she hasn't had much of a life.
The conversation turns to Michelle, who admits to wearing her heart on her sleeve the whole time, but she had no regrets.  Thanks to the wonders of choppy editing and laugh tracks, we learn that allegations of emotional instability are comedy gold.
Now it's time for what Chris called "the biggest TV scandal of 2010."  Alas, no one from "Our Little Genius" comes out.  Instead, it's Rozlyn Papa, who was kicked off the show many moons ago for allegedly having an inappropriate relationship with a staff member.
Chris says numerous times that he harbors no ill will toward Rozlyn.  He also asks numerous times if she had an inappropriate relationship with a staff member.  He then talks about his son rambling on about unicorns and magicians.  If Chris Harrison is auditioning for the Oprah slot, he's failing miserably.
Rozlyn denies everything.  The women on the panel deny everything Rozlyn is denying.  Fingers are pointed about "24/7 cuddling," Rozlyn being on "all fours" and Chris flirting with the ex-staff member's wife.  Chris does the worst impression of an elementary school teacher since Kate Hudson in "You, Me and Dupree."
After all that fun, Jake comes out, saying it was an "honor" to have all the women participate on the show.  We're then treated to the blooper reel, where Jake demonstrates his lack of vocabulary, as well as his problem using beds.
Next week, the finale!  Tenley vs. Vienna in the bore to settle the score.
What do you think of last night's episode?