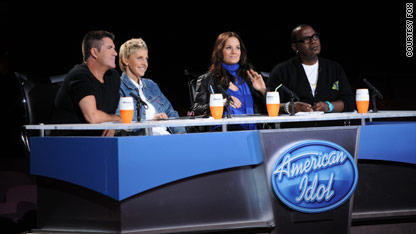 testing captions
The first day of Hollywood week was brutal.
Folks were getting cut left and right. Some like Antonio "Skiiboski" Wheeler were not completely unexpected. Others who you had high hopes for that didn't make it like Amedeo DiRocco were more surprising.
Then there were just the downright sad ones like the quaint Vanessa Wolfe whose back story included how it sucked to be stuck in her hometown, how it sucked to be her, how it sucked that she couldn't even go to the local mall, etc. (you get the picture).
It was heartbreaking to watch Vanessa's nerves get the best of her. I grew a little misty when she looked into the camera with tears streaking her face and said "I'm sorry Mama" after the judges gave her the ax.
But there were also quite a few bright spots on Tuesday's episode.
Someone needs to just go ahead and sign Andrew Garcia to a record deal after his acoustic version of Paula Abdul's "Straight Up." It made me miss Paula a little bit more, if for no other reason then I would have loved to have seen her go nuts watching that performance.
I think America is going to dig Janell Wheeler if she can survive the group sing on Wednesday night. She's all American with a funky edge to her voice.
Waitress Didi Benami took a huge chance singing a Kara DioGuardi song ,"Terrified," but the performance was so on point and I loved it. And if Michael "Big Mike" Lynche really did get booted from the show for his dad's loose lips, it really is a travesty because that dude can sing.
But even with all of the talent on the show, you know the real focus was on Ellen DeGeneres making her debut as a judge.
I thought she was funny and refreshing. It was nice to have some intentional humor for a change, and not a few laughs that could be attributed to a hot mess performance. Don't get me wrong, I am still team Paula, but I'm willing to give Ellen a chance.
How about you? What did you think of Ellen's first time up to bat?