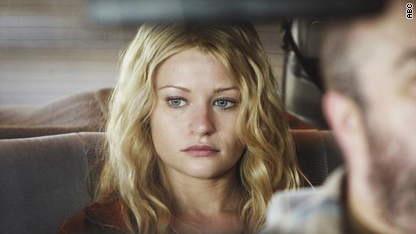 [Editor's Note: You know the drill by now. If you haven't seen this episode of "Lost" yet, DON'T READ ANY FURTHER.]
At first blush, Tuesday night's episode of "Lost" appeared to be Kate-centric, but it was what we found out about Claire that intrigued me the most.
Back in season four, Claire was taken away mysteriously by her dead(?) father, Christian, leaving her son Aaron behind, who was taken off the island by Kate as one of the Oceanic Six. Later, Locke (the real Locke... I think) met Christian and Claire inside Jacob's cabin, but something was certainly off about her. Then Claire appeared to Kate in a dream(?) and warned her not to take Aaron back to the island.
So, we've finally learned where Claire has been - still on the island this whole time, setting traps like the late, lamented Rousseau. And it seems that she has been "infected," and so has Sayid, according to Dogan, the leader of the Others living at the temple. (In another very "Lost" scene, Dogan tortured the torturer Sayid, similar to his treatment by Rousseau when they first met, in order to diagnose him.)
As usual, Jack was quite skeptical of all this, which remains one of his most frustrating character traits. Sure, he doesn't trust Dogan ("I don't even trust myself," he said), but you'd think he would have learned something about all this mystical stuff after all this time. Of course, Dogan's recommendation that he give Sayid a pill to "cure" the infection may not have seemed like the greatest idea either once it was revealed that it was a poison pill.
Jin, who witnessed the infection himself with Rousseau's crew, headed off with Kate to find the escaping Sawyer, but ended up finding Claire.
And what about the version of Claire who never got to the island? Still not sure if I'm on board with this split timeline (on the other hand, after all we've seen on this show, why not?), but the most intriguing part was the surprise appearance of Ethan - who kidnapped Claire way back in season one - attending to her while in labor.
Speaking of the first season, what about the psychic's warnings to Claire that she must raise Aaron, and his later suggestion that she have him adopted by a couple in Los Angeles, California? Well, in the alternate timeline, it turned out that Claire wouldn't have had the baby adopted anyway, as the couple had split up.
Oh, did I mention this was ostensibly a Kate episode? Kate found Sawyer eventually, in the home he shared 30 years earlier with Juliet, and revealed to him that the real reason she came back to the island was to reunite Claire with Aaron. It should be interesting to see if that reunion ever takes place. Is it true that death is the only cure for "infection?"
Time to hear your theories on what to expect next on "Lost." Share them on video, or in the comments below.