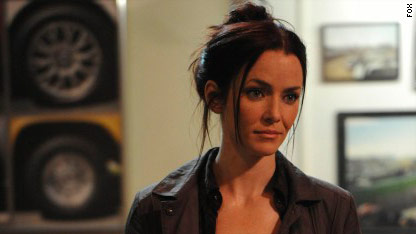 testing caption
Day 8: 10 p.m. to 11 p.m.
Attention Bauerites, you know the drill. You know each season of "24" has its customary episode where the story simply does not dictate much heart-pounding action. We've seen it before right? So, was THIS the one?
It seemed like it as President Taylor and President Hassan negotiated terms. I barely batted an eye.
The Dana/Kevin debacle continues, and my annoyance with that storyline has officially reached critical mass. I've reached the point where I can check my voicemail messages (sans Bluetooth), boil eggs and/or do laundry simultaneously whenever Dana and Kevin are on screen. I enjoy those two that much.
As a reader commented a few weeks ago, this duo is the show's equivalent to Jar Jar Binks in "Star Wars: The Phantom Menace" and I agree completely. They are worthless.
The Russian mob story seems to be intriguing - we're starting to connect the dots there - but that doesn't move me much either. President Hassan's story is picking up some steam as he is forced to watch his back after the assassination plot, but generally, the episode was rolling along at "ho-hum" speeds.
So as the story chugged along, I had come to the conclusion that this latest hour of "24" was the show where action would take a backseat to plot development. I actually thought we were watching "that" episode. I made peace with it all, and just watched without the usual fatigue that all true Bauerites suffer from as we watch each week.
But just as I settled in, at about 9:43 p.m. E.T., Renee got decked and the episode shifted into overdrive. In a wild twist, her fit of rage and retaliation was both a surprise and a heart-stopping moment as she stabbed Jack in a quick turn.
Jack's been stabbed? No way! Surprised? Certainly. Worried? Not at all, because we all know Jack will be just fine. No matter where the wound is, no matter what the weapon is, and no matter what gun-wielding lunatics take control of the situation, we're cool and so is he.
Somewhere deep within your "Bauerdom," you know he's going to be alright, and I think that's where the show's writers may be going wrong this season. Even as we see Jack in yet another torture situation in next week's preview, we've grown cynical and numb to his plight. We all know at some point he's gonna be freed by CTU operatives, or he'll kill everyone single-handed while still bound and gagged with Chloe's help as she unlocks doors over the Internet via his PDA - or something like that.
I know I'm being harsh but don't get me wrong - Jack's rebirth of the cool-in-the-face-of-terrorist threats was refreshing... a few days (seasons) ago.
Quite frankly, we simply need more because we've seen him do it all. He's overcome just about everything, but I actually think the show's writers have something very savvy up their sleeves.
I've been saying that for about three weeks now, and I believe next week will only bring us closer to more shocking action and plot twists. I simply have to believe that based on my love for the show. So, I'll remain faithful and you should too Bauerites. (Cue up the Journey song) Don't stop believin'!
Loved, kinda liked or hated the show? Let us know.