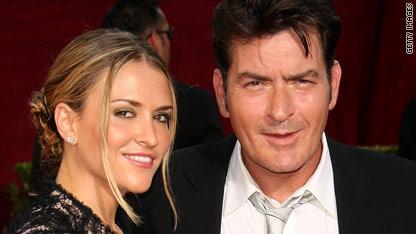 More than a month after their alleged Christmas Day fracas, Charlie Sheen finally has been charged with domestic violence against his wife, Brooke Mueller.  Today in Colorado, the "Two and a Half Men" star was charged with a felony count of menacing, as well as two misdemeanors: third-degree assault and criminal mischief.  Court documents allege Sheen had a knife in the pre-dawn tussle.
Sheen wasn't required to enter a plea today, and he didn't.  He and Mueller were both in court, and even hugged and kissed before leaving the courthouse.  The restraining order has been loosened, and they can live together as the process goes forward, though restrictions in the order against firearms, alcohol, and drugs remain in force.
So now what?  Sheen's next hearing is March 15, and between now and then, it's a safe bet Sheen's attorney and the district attorney will be negotiating a plea deal.  Mueller's attorney says his client committed to getting whatever help she needs, and that Mueller hopes all of the charges will be dropped.  Stay tuned.