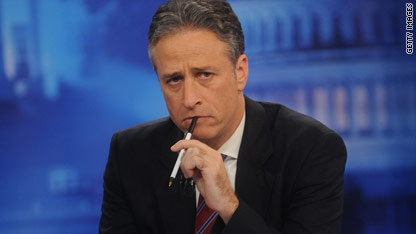 The liberal comedian and host of Comedy Central's "The Daily Show" crossed enemy lines Wednesday and sat down with Fox's Bill O'Reilly on "The O'Reilly Factor."
Perhaps Jon Stewart, as O'Reilly explained to the audience at the start, really did get lost in midtown Manhattan and just somehow ended up on the set of O'Reilly's show.
However he got there, Stewart didn't get as nasty as you might expect.

For all of his Fox News bashing on "The Daily Show," Stewart kept it pretty clean for most of the interview, not really taking O'Reilly's bait.
"Are you cognizant of the fact that your audience are primarily stoned slackers who love Obama," he asked Stewart, "and when you criticize Obama, you may be turning on them?"
Stewart, who's taken a bit of heat as of late for criticizing President Obama, replied that he doesn't think about who his audience is when he creates his material. "If it feels like a valid piece of absurdity out there, we vet things internally. Whatever you say, someone's not going to like it."
Including O'Reilly, who didn't take kindly to Stewart implying that Fox News is anything but an impartial hard news organization.
"Here's what I believe," Stewart said. "Fox News is the most passionate and sells the clearest narrative of any news organization, if you're still referring to it in that manner... I think Fox, in and of yourselves, say you're not a news organization all day. You're news from 9-11, and then you're opinion and then you're news again from 1-2:30. Except on Jewish holidays, then you're not."
If that was true, O'Reilly said, then why couldn't he book John McCain or Dick Cheney on "The O'Reilly Factor?"
In his trademark fashion, Stewart made a few jokes about McCain not being GOP-enough and Cheney being allergic to the harsh lighting, which O'Reilly took as evading the question.
Maybe he was beleaguered from his interview, but Stewart conceded that O'Reilly has "become the most reasonable voice on Fox. You have become, in some ways, the voice of sanity here, which is like being the thinnest kid at fat camp."
He went on: "Here's what Fox has done, through their cyclonic, perpetual emotional machine, 24 hours a day, 7 day a week. They've taken reasonable concerns about this president and this economy and turned it into a full-fledged panic attack about the next coming of Chairman Mao."
O'Reilly tossed Fox's reputation off onto Sean Hannity and Glenn Beck, calling Beck at one point an "Everyman," which of course got a rise out of Stewart.
The second half of O'Reilly's interview with Stewart airs tonight.