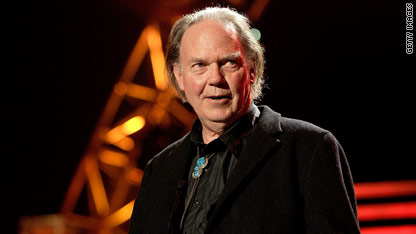 testing captions
When word hit the street that Neil Young was being honored as MusiCares' 2010 "Person of the Year," A-list artists scrambled to be part of the tribute.
In the end, the list of performers at Friday night's event in Los Angeles was staggering - Elton John, Red Hot Chili Peppers, Dave Matthews, James Taylor, Crosby Stills and Nash, John Mellencamp, Sheryl Crow, Elvis Costello, Wilco, Norah Jones and more. They all sang selections from Young's vast catalog - from Buffalo Springfield, to Crosby, Stills, Nash and Young, to his highly prolific four-decade solo career.
The night's biggest standout? A searing John Fogerty-Keith Urban Young re-make of Young's 1989 anthem, "Rockin' in the Free World" that left the industry audience on its feet and cheering.
Ben Harper also earned kudos for his gospel-inflected rendition of "Ohio," Young's haunting take on the Kent State shootings of 1970, when four college students were shot dead by National Guardsmen during an anti-war rally.
Elton John dueted with his hero, Leon Russell, on "Helpless," while James Taylor performed "Heart of Gold" and the Chili Peppers put their spin on "A Man Needs a Maid," a track from Young's 1972 album, "Harvest." Country sensations Lady Antebellum won the crowd over with a stripped-down, harmony-laced arrangement of "Only Love Can Break Your Heart," but classical superstar Josh Groban appeared bizarrely out of his element crooning Young's 1992 classic, "Harvest Moon." The latter seemed like a skit straight out of "Saturday Night Live."
Comedian Jack Black emceed the event, auctioning off pieces of his wardrobe between songs. By the end of the night, he was shoeless, having handed his Ben Sherman lace-ups to someone who anted up 600 bucks for MusiCares' financial assistance and addiction recovery programs (Black's arch supports weren't part of the deal).
"Chicks dig Neil Young," Black explained to the sold-out audience. "They dig his songs, and they love his sensitive, bad-boy vibe."
Young, 64, finished out the evening with a few remarks of his own. "It's been a great night," he said. "It wore me out ... when I look at some of those songs, and listen to them, I go, 'Oh my God, what am I going to do now? Who WAS that guy?' "
Set List:
1) John Mellencamp "Down By the River"2) Ozomatli – "Mr. Soul"
3) Jackson Browne – "Don't Let It Bring You Down"
4) Sheryl Crow & Stephen Stills – "Long May You Run"|
5) Lady Antebellum – "Only Love Can Break Your Heart"
6) Norah Jones & Sasha Dobson – "Tell Me Why"
7) Emmylou Harris, Lucinda Williams & Patty Griffin – "Comes a Time"
8 ) Wilco – "Broken Arrow"
9) Josh Groban – "Harvest Moon"
10) Everest – "Revolution Blues"
11) Dierks Bentley with Booker T. Jones – "Cinnamon Girl"
12) Ben Harper – "Ohio"
13) Keith Urban & John Fogerty – "Rockin' in the Free World"
14) Elvis Costello – "The Losing End"
15) Jason Mraz & Shawn Colvin – "Lotta Love"
16) Dave Matthews – "The Needle and the Damage Done"
17) Red Hot Chili Peppers – "A Man Needs a Maid"
18) James Taylor – "Heart of Gold"
19) Elton John & Leon Russell with Sheryl Crow, Neko Case & T-Bone Burnett – "Helpless"
20) Crosby Stills and Nash – "Human Highway"