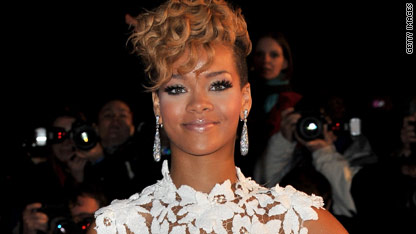 Fans looking forward to a performance by Rihanna at the Grammys on Sunday will be disappointed. The singer confirmed that she will not be performing on the show during an interview on Carson Daly's radio program.
Daly asked who he could call to get her into the lineup, and Rihanna responded that she wasn't so sure there was anyone who would take the request.
"Um, we messed up the show pretty bad last year, they're probably a little mad at me right now," she told Daly.
Rihanna had to cancel her performance at the 51st Grammys after she and Chris Brown were involved in a headline-dominating domestic violence dispute that kept both of them from attending the awards show.
Rihanna is up for two Grammy awards - best rap/sung collaboration as well as best rap song - for "Run This Town," and she assured Daly that she won't be missing the ceremony altogether.
Oh, and about that baseball connection: Rihanna didn't deny or confirm that she's had a relationship with ballplayer Matt Kemp, but for the record, she's not a Dodgers fan. In fact, she added, she doesn't even know anything about baseball. Daly speculated that the singer now knows plenty about how to run through first, second and third bases.