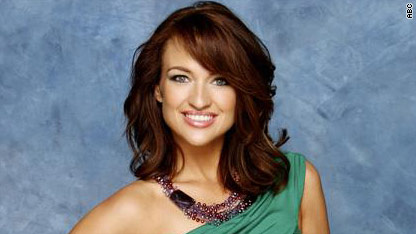 testing captions
Four contestants were eliminated by Jake on Monday's episode of "The Bachelor."  One of those knocked out was Ella Nolan, a hairstylist, real estate agent and single mom from Tennessee.
Earlier today, Ella took time to speak with reporters, myself included, about all things "Bachelor."
Was she surprised by her elimination? 
According to Ella, there were times where she thought her connection with Jake was strong, but there were also moments where the spark wasn't there.  However, Ella was somewhat shocked by her elimination, as she thought she and Jake didn't get more time to develop a romantic side to their relationship.
Thoughts on her son, Ethan, being introduced to Jake so early in the show:
Ella was glad that her son met Jake, but the hard part was coming back home and telling Ethan that she was done and he may never meet Jake again.  She thought Ethan and Jake bonded well, but that bringing him out so soon may have hurt her chances at a romantic connection with Jake.
Was she upset that Jake got to meet Ethan, especially when the meeting didn't amount to anything at the end?
Ella said that, to Ethan, Jake wasn't the star of a TV show - he was a pilot who shared Ethan's love of planes and flying.  She has no regrets about doing the show, as she thought Jake would be a perfect match.
Thoughts on Vienna:
Ella said that she had no problems with Vienna, describing her as "misunderstood."  She said when you have 15 women living together and trying to make a connection with a man, there will be conflicts.  Ella says Vienna tells it like it is but, at times, speaks before she thinks.
Thoughts on Rozlyn Papa, the contestant removed from the show amid allegations of an "inappropriate relationship" with a "Bachelor" staff member:
Ella says Rozlyn is a good person and a good mother.  She said she knew nothing about any "inappropriate relationship," adding that she saw nothing out of the ordinary.
Given her values, what would she have done if Jake invited her for an "overnight date"?
Ella says she would have accepted the date on the condition that it wasn't the time for intimacy.  With no cameras or microphones, Ella would have used that opportunity to learn more about Jake and determine how the two would behave in a "real-life" situation.
Would she be willing to be the next "Bachelorette"?
She said she would consider it, but would have to really think and pray about it before making a final decision. 
Advice for anyone considering trying out for the show:
Ella says that if you think you're "Bachelor/Bachelorette" material, you must take it seriously.  You need to understand that if you agree to do it, you leave your life behind and be committed to the show.  If you can't do that, it's not for you.