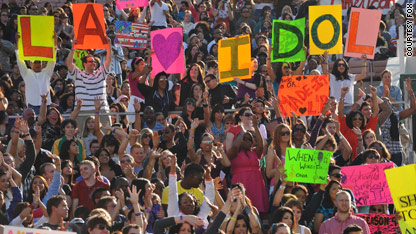 testing captions
Oh Los Angeles auditions, where do I even begin?
You knew it was going to be nutty when guest judge Avril Lavigne showed up in a hoodie with devil horns.
I felt sorry for the sweaty, verbal tic mess that was 19-year-old Neil Goldstein (whose hair length kept switching in his scenes), but couldn't help but feel that the aspiring actors were out in full force thanks to 26-year-old "martial artist/sandwich maker" Damien Lefavor.
I would have much preferred to see more of the actually talented singers like Andrew Garcia, 23, whose version of Maroon 5's "Sunday Morning" made me swoon. I look forward to seeing more of him and personal assistant/minister Tasha Layton (does everyone in L.A. have multiple gigs going on?)