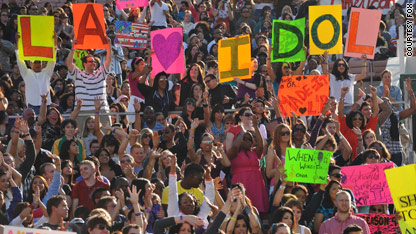 testing captions
Oh Los Angeles auditions, where do I even begin?
You knew it was going to be nutty when guest judge Avril Lavigne showed up in a hoodie with devil horns.
I felt sorry for the sweaty, verbal tic mess that was 19-year-old Neil Goldstein (whose hair length kept switching in his scenes), but couldn't help but feel that the aspiring actors were out in full force thanks to 26-year-old "martial artist/sandwich maker" Damien Lefavor.
I would have much preferred to see more of the actually talented singers like Andrew Garcia, 23, whose version of Maroon 5's "Sunday Morning" made me swoon. I look forward to seeing more of him and personal assistant/minister Tasha Layton (does everyone in L.A. have multiple gigs going on?)
I had been waiting for the "Adam Lambert syndrome" to kick in and A.J. Mendoza didn't disappoint. Not only did the 20-year-old look and speak like the Lambert's little brother, but his overwrought version of "Cult of Personality" seemed almost a parody of last season's runner-up.
And was it just me or was guest judge Katy Perry super-annoying? I enjoy a liberal dose of snarkiness as much as the next person, but she just got to be too much.
My favorite moment of the night was Ryan Seacrest's nod to the "is he or isn't he" rumors out there when Jason Greene, 21, offered the "Idol" host his phone number after Greene's over the top version of Divinyls "I Touch Myself." It could have been completely staged, but I still found it amusing.