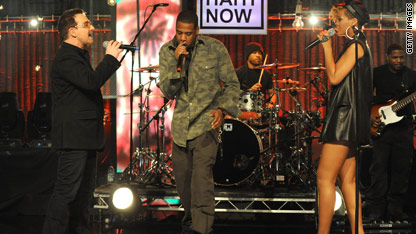 testing captions
The "Hope for Haiti Now" telethon moved viewers with powerful performances from some of today's top musical stars.
Pop heart throb Justin Timberlake's reverent take on Leonard Cohen's "Hallelujah," seemed perfectly suited for the benefit to raise money for earthquake-ravaged Haiti.
The singer told MTV that the song is one of his favorites. "What's being said in the song, it just kind of fit the telethon," he said.
Christina Aguilera leant her powerful pipes to the stirring ballad "Lift Me Up." Accompanied by the song's composer, producer Linda Perry, Aguilera's heartfelt performance soared over the sound stage. The song is reportedly a new single from her upcoming album.
Hip hop was also well represented at the telethon. Superstars Jay-Z, Bono and Rihanna came together in London for a spirited performance of "Stranded (Haiti Mon Amour)." The song is an original track composed for the benefit.