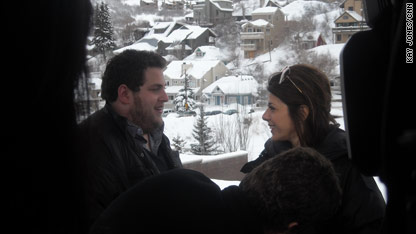 testing captions
Believe all the hype over Kristen Stewart! She is all that and more. Kristen is starring in two movies here at Sundance and I just interviewed her for her starring role in "The Runaways" as Joan Jett.
I can tell you that she is amazing in it, but what's more amazing is her poise and her attitude about being a big star at such a young age in Hollywood. She's just 19 years old and can't walk down the street without a mob surrounding her. But she totally appreciates what she has and doesn't take it for granted.
I can say the same thing for Jonah Hill who's starring in "Cyrus." Jonah came over to the CNN suite here at Sundance with John C. Reilly and Marisa Tomei and he's just as funny off camera as he is on camera.
He told me that Marisa Tomei was the very first star who came up to him and told him how great he was in his movie "Knocked Up." Marisa and Jonah ran into each-other in a macrobiotic restaurant and Jonah thought the funniest part of the story was that he dined in a macrobiotic restaurant. You gotta love that!
After the interview I raced out of the suite to get to another interview and I caught Jonah Hill walking down Main Street. His fans stopped dead in their tracks to get a glimpse and Jonah waved and smiled… he really is a cool guy.