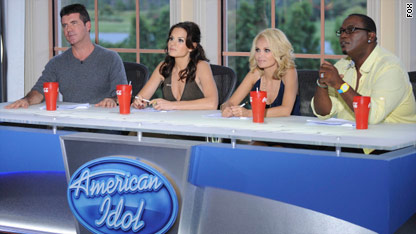 testing captions
I am seriously running out of heartstrings for "American Idol" to pull.
Wednesday night's auditions in Orlando had plenty of people with sad stories. There was Seth Rollins, a 28-year-old insurance adjuster whose 5-year-old son, Samuel, has autism. Rollins had me when he sang "Someone to Watch Over Me," but having his son utter "Daddy's going to Hollywood" after the successful audition was a nice touch.
Rollins was soon followed by 18-year-old waitress Shelby Dressel, who grew up unable to move the right side of her face. But the one who really got to me was Matthew Lawrence, 25, who went to jail as a teen for robbing a bank with a BB gun. His story and his soulful version of "Trouble" were the perfect way to close out the show. 
Not that there weren't plenty of laughs. I adore guest judge Kristen Chenoweth and her cartoon-like voice always makes me smile. Plus she almost made me like Kara DioGuardi, watching the pair of them goof around during the first day of auditions.
With the "Idol" wannabes, sisters Amanda and Bernadette Desimone seemed like they had stepped right out of a "Saturday Night Live" skit. Between their Jersey girl big hair and effusive support of each other's vocals, I wasn't sure whether I should be guffawing or touched.
And Cornelius Edwards, 24, reminded me of comedian/singer Jamie Foxx, not just because of his singing voice but also because of his comical " My pants done ripped" after his flying split destroyed his jeans.
As for 28-year-old Jarrod Norell, who had to be taken out in handcuffs after singing torturing "Amazing Grace" ... it is now getting to the point where you wonder if people are no longer content to just sing badly to get some air time.