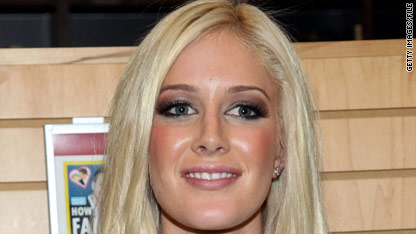 testing captions
It seems no amount of publicity can generate record sales for reality television star Heidi Montag.
Despite a media blitz this week that landed her on the cover of People magazine admitting she had ten plastic surgery procedures in one day, Montag's  album "Superficial" has sold less than 1,000 copies in its first week according to Nielsen Soundscan.
Individual songs from the album are doing better and have been downloaded more than 6,000 times.
"The Hills" star invested a healthy chunk of her own change into the project, telling Entertainment Weekly magazine that she spent every dollar she had on this project.
"I've spent over $1 million, almost $2 million, on this album. It's cost as much or more than a Britney Spears album because I wanted it to be that quality... The songs will make an impact in pop history," Montag, 23, told the magazine.
Spears' last album "Circus" sold more than 500,000 copies in its first week.
When asked what she would do if the album flopped Montag expressed disbelief at that kind of outcome.
"That's not even a possibility. I think within the first week we will definitely make our money back," she said.